we need your help!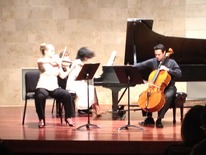 We have been selected to participate in the world renown
Chamber Music Residency at the Banff Arts Centre
this June, along with 40 other members of elite up-and-coming ensembles chosen by audition from all across the globe.
World-class professional artists, including Director,
Barry Shiffman
(

Violin)
,
Mark Steinberg (

Violin),
Donald Weilerstein (

Violin),
James Boyd (

Viola),
Joel Krosnick (

Cello),
Gilbert Kalish (

Piano),
and Vivian Hornik Weilerstein (Piano) will be guiding us through master classes, coachings and performances.

We will also have an opportunity to use the recording facilities to work on our first CD.


WE NEED YOUR HELP to match the scholarship we have been awarded from the Banff Centre.



D

ONATE NOW (click here) and
help us launch our journey to Banff, an idillyc center inspiring artists to perfect their craft and build programming and
bring the highest quality chamber music performances back to our communities.


All donations are 100% tax deductible through our fiscal sponsor, the San Francisco Friends of Chamber Music.
DONATE ONLINE HERE
or
WRITE A CHECK to the SF Friends of Chamber Music.
Please note "BELLA Trio" on your check.
Then mail it to:
BELLA Trio | 1250 Leavenworth Street, 3rd Floor | SF, CA 94109
Contributions of $100 or more will secure your invitation to a VIP Donors Recital in the Fall of 2012 and a professionally produced CD recording.